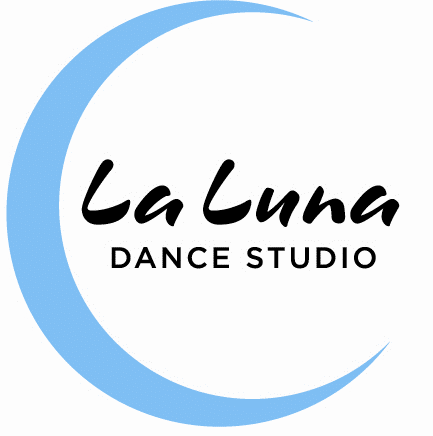 ​La Luna Dance Studio
Teens & Tots Dance Program
Class Levels, Descriptions, & Dress Code
​
​
Pre-Ballet
Ages 3-5. Students must be fully potty-trained.

​Mini
Ages 5-7 (must be age 5 by September 1st)

​Children's
Ages 7-9 (must be age 7 by September 1st)
​
Pre-Teen
Ages 10-13
​
​Teen
Ages 12+.

​*Pointe
Ages 12+. Must have a minimum of 3 years ballet training and must receive instructor approval.
Class Descriptions
​
Pre-Ballet
Introduction to ballet fundamentals and terminology. Focuses on motor skills development and rhythm. Creative Movement and props are also a part of this fun class, aiding our youngest dancers in learning classical technique while exploring their creativity. Students must be fully potty-trained.
Ballet
Ballet offers a solid foundation and technique, as well as grace, flexibility, and discipline to dancers of all age, level, and style. Proper ballet vocabulary, along with technique, alignment, endurance are explored in this class.
​
Jazz
Jazz is a fast-paced and high energy dance which uses the foundations of ballet to create dynamic movement. Multiple styles of Jazz will be taught to expose students to the ever changing trends in dance. Students enrolled in Jazz must also take 1 ballet class.
​
Lyrical/Contemporary
Lyrical is a fusion of ballet and modern dance techniques where the dancer uses interpretive movements to convey the lyrics of the music through dance. Other modern and contemporary dance styles will also be introduced in this class.
Students enrolled in Lyrical and Contemporary must also enroll in 1 ballet class.
​
Hip Hop
Hip Hip is a popular and funky urban style of dance using beats, accents, and isolations to popular music.
​
Salsa
Salsa is the unique blending of traditional Latin dance steps with the freedom and turning actions of Swing and Hustle dancing. Salsa uses a fusion of an Afro-Caribbean beat with enhanced jazz textures to create a high-energy and social form of Latin dance.
​
PBT (Progressing Ballet Technique)
Progressing Ballet Technique is an innovative program developed by Marie Walton-Mahon for students to understand the depth of training muscle memory in achieving their personal best in classical dance. PBT is a non-traditional technique class using the aid of props such as fitness balls and yoga mats. PBT is non-recital class open to all students age 8+. La Luna is not currently offering PBT this season.
​
​
Dress Code
​
​
​
​
​
Pre-Ballet
Pink Leotard with attached skirt

Pink Tights

Pink Ballet Slippers (Canvas or Leather only)
​
​
Ballet
Any Color Leotard

Pink Tights

Pink Ballet Slippers (Canvas, split sole)

Ballet Skirt optional
​
​
Jazz & Lyrical
Any Color Leotard

Tan / Skin tone tights (footed or stirrup - NO pantyhose)

Tan Jazz Shoe (no laces)

Ballet Skirt or black dance shorts optional
​
​
*Target, Walmart, and Kohl's also carry some items such as Leotards, certain shoes, and athletic pants.
You are more than welcome to shop around as long it adheres to the dress code! :)
Hip Hop
Any color Leotard

Black Leggings, Yoga Pants, or Athletic Pants

Black Dance Sneakers

Tan Tights may be needed for recital if the costume selected has shorts.
​
​
Boys
Any Plain T-Shirt

Black Athletic Pants

Black Shoes (See above class description for which type of shoe)
​
​