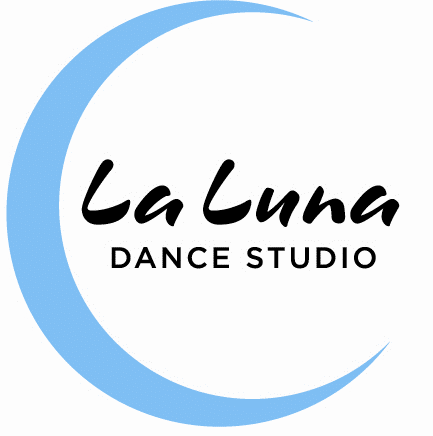 ​La Luna Dance Studio
Teens & Tots Dance Program
General Policies and Student Code of Conduct
Thank you for choosing La Luna Dance Studio! In order to ensure that all students gain the most from their dance education, we have set forth the following policies to provide the most organized and enjoyable experience for all.
GENERAL POLICIES:
1. All classes begin and finish on time. Each class is 55 minutes in length. Children should be picked up at 25 minutes after the hour. (If your child's class is at 5:30pm, class will end at 6:25pm.)
2. Please ensure that your child is on time for every class. It is extremely important not to miss the warm-up in the beginning of class. To prevent injuries, students will not be permitted into class after the first 15 minutes of class.
3. All students must remain inside their classroom with their teacher until a parent or guardian arrives to pick them up. For their own safety, children will not be allowed to wait outside of the building or in the hallway areas. Please pick up your child promptly at the end of their class, as our teachers may be teaching in other classrooms after your child's class has ended.
4. Parent are welcome to wait for their child at the studio, although seating is limited. If you choose to wait and you have another child with you, we ask children not to run or be overly noisy in the hallways as this is distraction to the classes in session.
5. Parents are not permitted to be in their child's classroom during class. There are 2 Parent Observation weeks during the school year when parents and families are welcome to observe the dancers in their classroom setting.
6. La Luna will send out regular email newsletters about once each month to keep you up to date and informed. Please be sure that we have your correct email address on file. In the event of an emergency closing, we will email all of the students and update the studio's website.
STUDENT CODE OF CONDUCT
1. All students must be ON TIME for their class. Excessive tardiness will not be tolerated. Students more than 15 minutes late will not be permitted into class.
2. The dress code will be strictly enforced. Students should be dressed in the appropriate uniform, and ready to begin by the start of their class. (If class begins at 5:30pm, students should be dressed and ready to begin by 5:30pm sharp!)
3. Absolutely NO CELL PHONES will be permitted inside of the classroom. Phones do not belong in dance class and should be kept at home. If a student must carry a cell phone with them for emergencies, it must remain away and on silent at all times and should never be seen inside of the classroom.
4. No food, drink, or chewing gum are allowed inside of the classrooms. Children are allowed to bring WATER ONLY to dance class.
5. Please avoid missing classes. Excessive absenteeism will negatively impact your progress and all of the other children's preparation for the recital.
6. Students must show respect for their teacher and fellow classmates. Any student found behaving inappropriately, or in any manner that is detrimental to the progress and well-being of the class, will be asked to leave.
LOST & FOUND
1. La Luna Dance Studio is not responsible for lost, misplaced, or items left behind. La Luna has a Lost & Found bin located at the front desk. Items will be held for 30 days only. Items left unclaimed longer than 30 days will be donated or disposed of.